Easy Weeknight Runza
Sometimes you just need a whole new taste palette to try. Why not this easy weeknight version of Runza, a delicious German spin on a traditional Russian style food.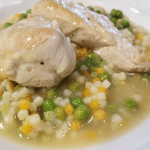 Easy Weeknight Runza
Ingredients
1

package pizza dough

1/2

head of cabbage

shredded

1

onion

chopped

1

lb

ground beef

1/4

cup

chopped dill

salt and pepper to taste
Instructions
Preheat oven to 350.

Cut pizza dough into 4 even sized pieces. Roll each out into a rectangle about 6" X 8".

Line 2 baking sheets with parchment and put 2 dough rectangles on each sheet.

In large skillet, saute onions until transparent.

Add ground beef and brown it.

Add shredded cabbage, cover skillet & cook, stirring occasionally, until cabbage is wilted.

Cover half of each dough rectangle with thick layer of beef mixture.

Fold other half of dough over filling and seal edges by pinching dough with your fingers.

Bake for 30 min until dough is golden. Serve.
Easy Weeknight Runzas is a simple, fun recipe that kids will love. Runzas were originally created by Germans who moved to Russia under the reign of Catherine the Great. They were an adaptation of the Russian pierogi. You can learn more about their history in this article.
Want to see other easy weeknight dinners? You'll find more at our blog here. Tired of thinking up what to cook each night? Want someone else to do all the thinking and planning for you? Check out The Dinner Daily, a customized meal planning app with organized shopping list.
here are the ingredients:
Dose of humor
Russian translation guide
German motorcycle with Sidecar